INTRODUCTION
---
n an effort to promote entrepreneurship among women, a group of like-minded female entrepreneurs as part of their corporate social responsibility came together in 2006 to establish the national association of women entrepreneurs (NAWE). The goal was simple-to provide a place where women can share their experiences and transfer their knowledge to the next generation of female entrepreneurs. Raising awareness about the role of female entrepreneurship and its contribution to the economic development as a whole was the driving force behind establishing NAWE. One other main factor was to encourage the new female university graduates to consider owning their own business as an option upon graduation
OUR VISION & MISSION
---
VISION
A pioneer in introducing innovation and entrepreneurship to the Iranian women in achieving a balanced and sustainable development
.
.MISSION
NAWE assists in addressing the members' professional demands in running their individual businesses as well as investigate the legal and legislative rights as applicable to different sectors for women-run businesses.
It also collects research and analysis of data with respect to different opportunities, problems, requirements and priorities facing female entrepreneurship in Iran.
NAWE has drafted and developed a roadmap based on long term objectives and increasing organizational responsibilities and activities
NAWE helps with initiatives to increase the efficacy and efficiency of social development plans and capacity building through many joint venture agreements and other types of agreements with the Governments, other NGOs and different stakeholders.
Acts as the liaison with different relevant organizations involved in various aspects of female entrepreneurship and the applicable governing legal framework.
It engages and collaborates with Government Ministries, institutions, or other established entities to promote and develop female entrepreneurship.
NAWE provides training sessions along with expert instructors independently or in collaboration with different Ministries.
It cooperates with different Government Ministries, organizations and legal entities in promoting provincial chapters of the Association.
Through membership in other NGOs and other entrepreneurship-related organizations, NAWE tries to help improve the governing regulatory framework.
NAWE also lobbies with the Government and offer advisory services about legal bills or Government plans with an impact on entrepreneurship especially female entrepreneurship.
OBJECTIVES
---
NAWE's aims are to:




1. Assist in promoting entrepreneurship;




2. Contribute towards the improvement and reform of policies in support of female entrepreneurship;




3. Promote a suitable platform for fostering innovation;




4. Offer support to the formalization of training, research, and advisory services;




5. Endorse establishing a sustainable and appropriate liaison among entrepreneurs, the Government, banks and other stakeholders; and




6. Create networking solutions among women entrepreneurs both domestically and internationally.
.
.
ORGANIZATION STRUCTURE
---
.
The Organization has a board of directors elected for two years by the shareholders' assembly. The inspector also attends different meetings and is responsible for oversight of the financial decisions of the board of directors. The board of directors is responsible for major decisions regarding the activities of the organization. However, the daily operation of NAWE is run by the CEO and the different committees either reporting to the CEO or the board of directors directly. These committees include the audit committee, executive committee, branches and rep. offices committee, membership committee, international committee, training, research and advisory committee, communications and public relations committee, specialized working committees involved in agriculture, environment, trade, IT, tourism, and social entrepreneurship
.
.
.
UN & NAWE
---
.
Since the main emphasis of the United Nations is to advance the three dimensions of sustainable development – economic, social and environmental, the following is a brief discussion on how NAWE has attempted to follow some of the same goals on a national level. Having the same goals and striving towards achieving these in Iran is the basis of creating synergy with ECOSOC. Among the UN's Sustainable Development Goals, NAWE has been active in the following: 1. Poverty Eradication (Goal No.1): NAWE constantly lobbies the Iranian Government and Parliament to help create sound policy frameworks at the national level, based on pro-poor and gender-sensitive development strategies, to support accelerated investment in poverty eradication actions, including those stricken by natural disasters. In addition, NAWE strives to assist women after the natural disasters in Kermanshah, Bam, Golestan and Lorestan provinces to ensure they can meet their daily needs. 2. Gender Equality (Goal No. 5): a) Ensure women's full and effective participation and equal opportunities for leadership at all levels of decision-making in political, economic and public life. - By engaging with public and private decision makers, NAWE has ensured that some of its members are now board members at influential Government and non-Government agencies and corporations. - Trips to different provinces helped identify various female entrepreneurs to assist with any grievances they have against the Government in terms of their operations as well as promoting their products or services at the highest levels. b) Enhance the use of enabling technology, in particular information and communications technology, to promote the empowerment of women.
NAWE has been active in designing and developing a national database identifying rural and urban female entrepreneurs to create synergy and establish an online network to help foster cooperation among them. - Assistance with digital presence of female entrepreneurs and design and develop online sales and marketing strategies. 3. Decent Work and Economic Growth (Goal No. 8): a) Promote development-oriented policies that support productive activities, decent job creation, entrepreneurship, creativity and innovation, and encourage the formalization and growth of micro-, small- and medium-sized enterprises, including through access to financial services. NAWE together with other NGOs strives towards revising Government policies by emphasizing on the active participation of women in different economic spheres including lobbying for female founders equal access to financial resources as well as Government incentives. One of NAWE's mandates is to engage with different stakeholders including office of the women affairs at various Ministries to promote the rights of female startup founders, exporters, importers as well as different Ministers to demand better access to financial and economic resources for rural and tribal women active in economic activities regardless of their size of enterprise. This is evident from the numerous MOUs NAWE has with different Ministries regarding different topics including spanning from industry to agriculture.
.
.
.
Zahra Hosseinpour

رئیس هیئت مدیره

Roya Kohestani
عضو هیئت مدیره و مدیرعامل Vida Daylami
نایب رئیس هیئت مدیره Samira Askari Mehrabadi
عضو هیئت مدیره و خزانه دار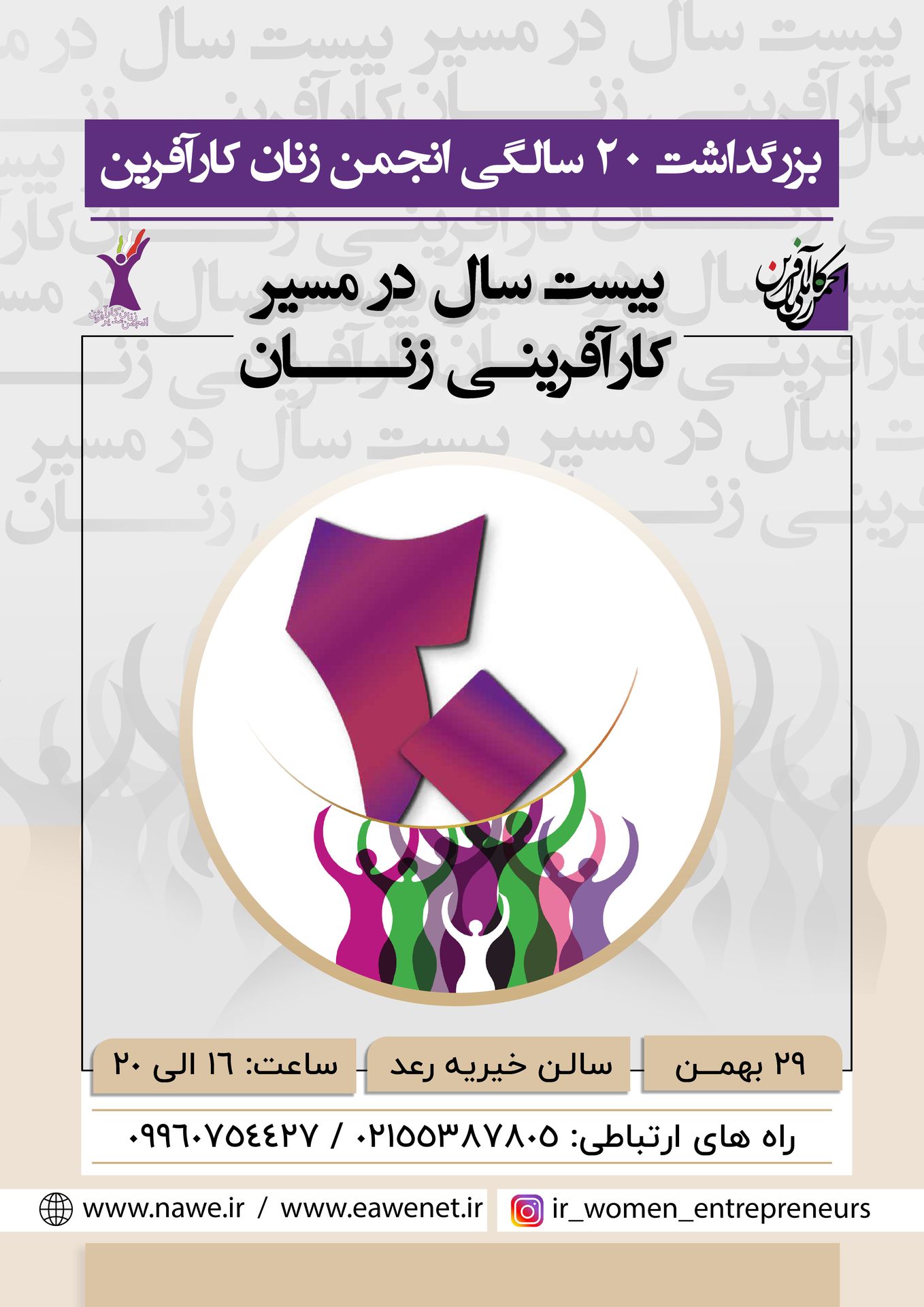 Jahanara Mamikhani
عضو اصلی هیئت مدیره

Ani Khakichian
عضو علی البدل هیئت مدیره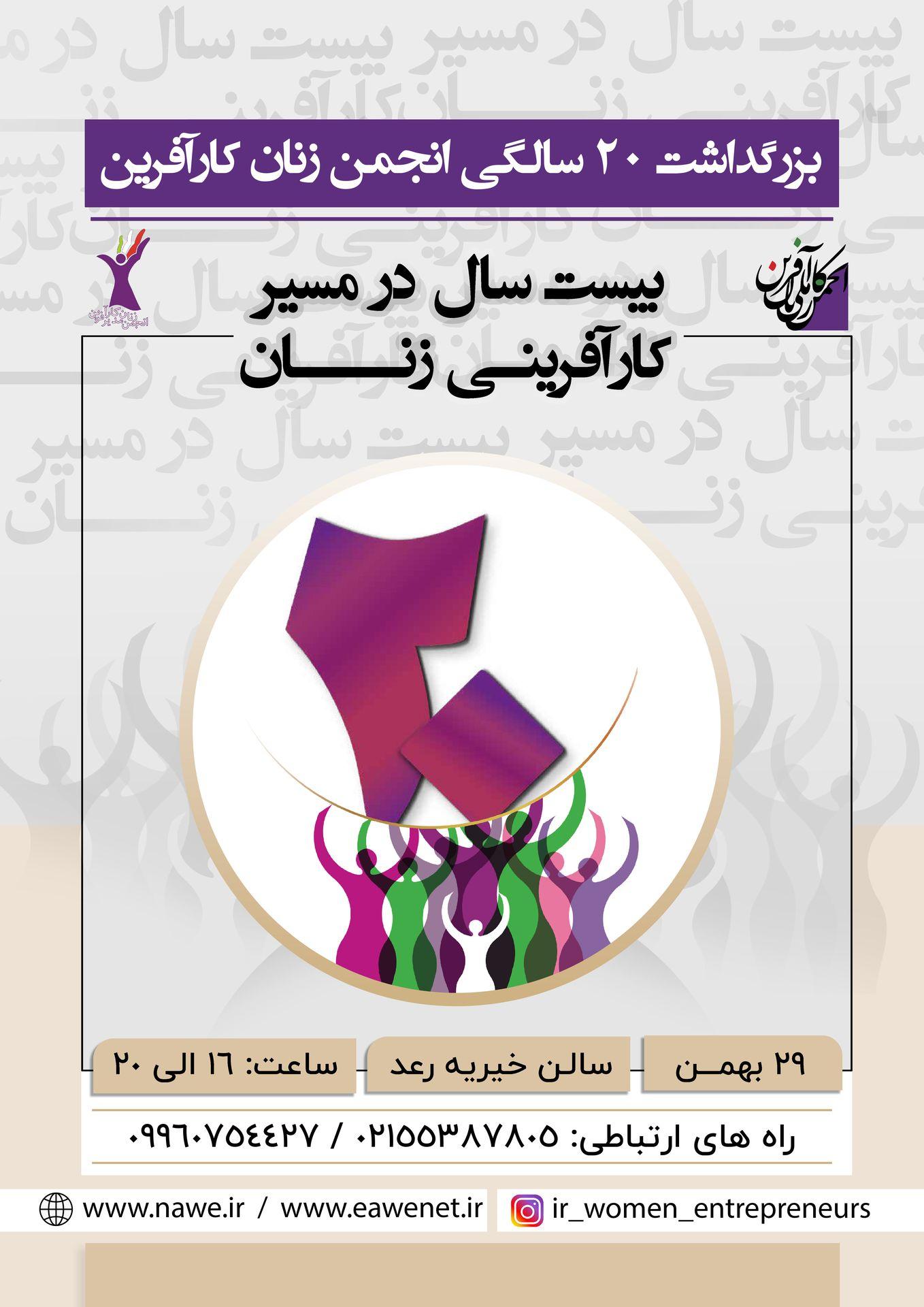 Nafiseh Orouji
عضو علی البدل هیئت مدیره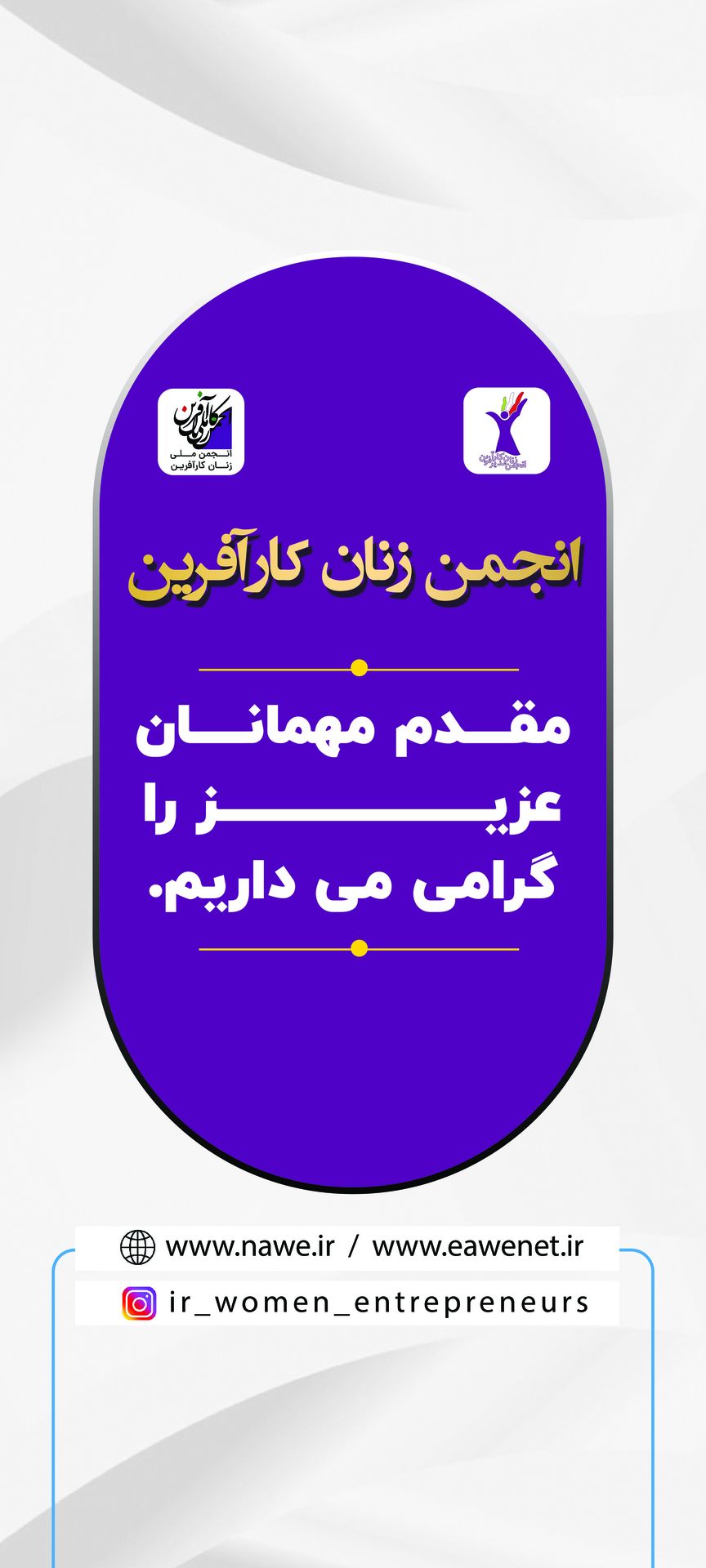 Samira Kooshkestani
بازرس اصلی انجمن
ZahraShiri

بازرس علی البدل
NAWE is active in promoting the rights of women and enhancing their equality within the economic realms of Iranian society. NAWE believes that it has been instrumental in terms of finding solutions to economic perils that both urban and rural women entrepreneurs grapple with and thru participation with organizations like ILO and meeting other women from both the western world and the Islamic communities elsewhere has identified issues women facing in achieving success in the business world and achieving the rightful balance between family and business requirements. One of the most important issues that NAWE is engaged in is ways to improve Women advocacy in society and the business world as a whole. It is always at the forefront of new initiatives with different organizations both domestically and internationally to identify the commonalities facing women entrepreneurs and ways to improve networking to achieve female empowerment. Other initiatives include ways to eradicate poverty especially in less developed areas of Iran and ways to improve the lives of women by introducing empowerment initiatives in poverty-stricken areas in an attempt for women to achieve self-sufficiency.

Affiliations with Other Domestic NGOs
---
Iran NGO Network, Entrepreneurial Female Managers Association, The Entrepreneurship Development Foundation For Women And Youth (EDF), Member of Vice Presidency for Women & Family Affairs NGO Network, National Netw ork of Charities, Media Thought Woman, YAS